Today, March 19th, all the Catholic World celebrates the Solemnity of Saint Joseph. Saint Joseph was the man chosen by our Father in Heaven to be the foster father of our Lord on earth. Our son, Karol Jozef, celebrates, in a special way, today's feast, as he was, in part, named after Saint Joseph. In addition to being the patron of our first born, Saint Joseph is also the patron of fathers, the dying, carpenters and the Universal Church.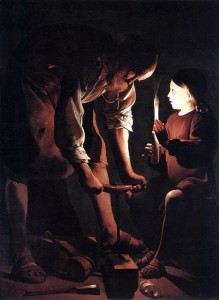 Tonight, when our family prayed Vespers together, we sang together this hymn:
Look down to us, Saint Joseph,
Protector of Our Lord,
Who followed you through deserts,
And gave you blessed reward;
Our foes are yet about us,
Be strength now at our side,
Be light against the darkness.
Saint Joseph, be our guide!
We venerate your justice,
The gospels praise your name,
You are the saint all humble,
Who gained eternal fame;
In your devoted family
Our souls in trust confide,
Direct our way to heaven.
Saint Joseph, be our guide.
Melody: Dutch Melody 76.76.D
Music: Holland, 1539
Peoples Mass Book, 1966
Text: Michael Gannon