We traveled nearly 3500 miles, visited lots of places and friend, got the stomach bug, and most importantly, played in snow!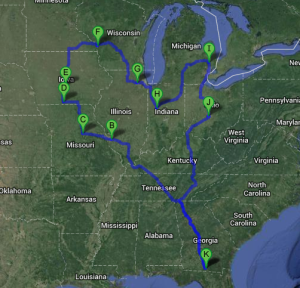 Our trip started on Christmas night, we drove through the night to St. Louis, where we stopped and went to Mass with the Poor Clares of Belleville, Illiniois. A friend of Joshua's from many years ago is a sister there and we were blessed with a short 5 minute visit with her, but it was wonderful and grace filled!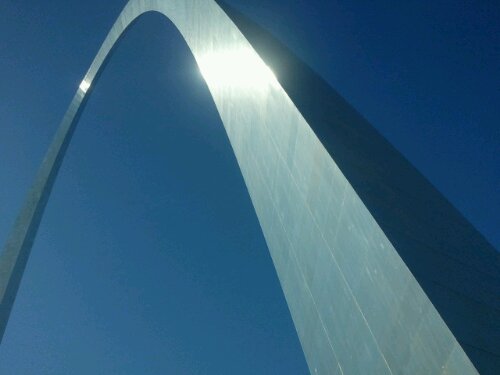 We then headed across the river to St. Louis, Â stopping to see the Arch, we didn't go up this time, but toured the museum below and got our National Parks Passport stamped. We've been up to the top of the Arch before, when Karol was just over a year old. He didn't believe us and I know now if we went up, he'd freak out and not in a good way.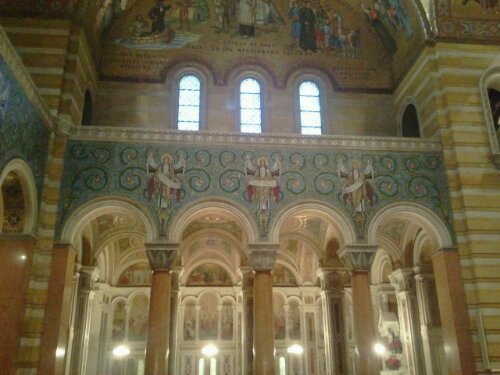 After the Arch we headed over to the Cathedral of St. Louis. Wow, just wow. If you haven't been, I recommend going, it's beautiful!
After our trip to the Cathedral, we headed back across the river to visit the Sisters of St. Francis of the Martyr St. George and another sister Joshua has known for a long time. Let me just tell you, Margaret was in nun heaven!
That evening we headed to Columbia, Missouri, where we spent the night and well, pretty much crashed from our very long day of traveling.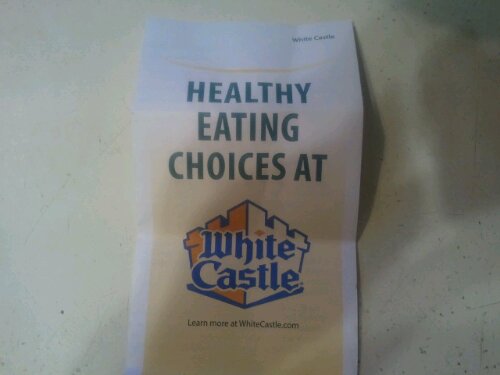 The next morning we were ready to head to Iowa, but first we needed to stop and make good food choices at 1030 in the morning. (We also picked up some White Castles for my Uncle Mike who, sadly, doesn't live near one.)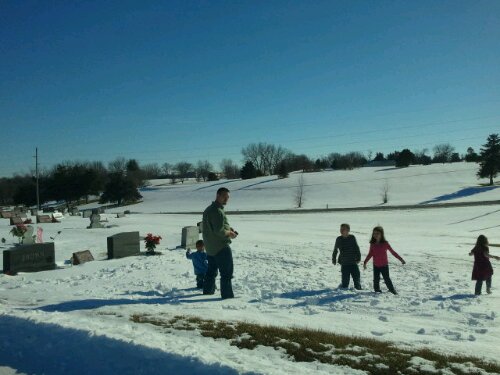 We headed north to Iowa, and stopped in the small town of Leon, where my father's parents are buried. I am sure they loved that their great-grand children were playing in snow for the first time, near the foot of their graves. This is also where Benedict faceplanted in the snow, as he has no idea how to walk in the stuff.
The weather was warm that day, in the 40s, and the snow was melting, so we didn't really need coats, just long sleeves.
That night we spent with friends we know who live in Des Moines and stayed up late, drank wine, discussed our faith, prayed together, laughed together, talked about natural foods, and contemplated a move to Des Moines.
The next day, we went to lunch at my cousin's house where we were able to catch up with a good chunk of my Iowa family. Then we headed to to my uncle's house for dinner with him, my aunt, and another cousin. Of course, I never think to take pictures, but the memories are sweet.
The next morning we went to Mass with our friends and then hit the road for La Crosse, Wisconsin and the Logues!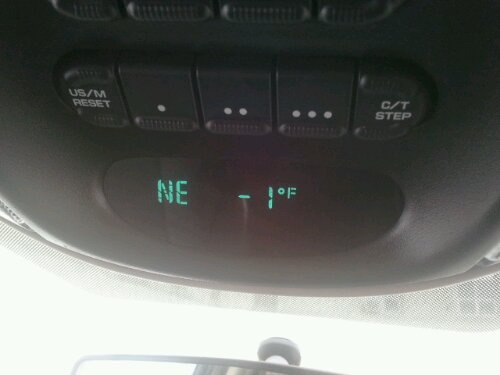 This is what the weather was like the entire time we were in La Crosse and I loved it!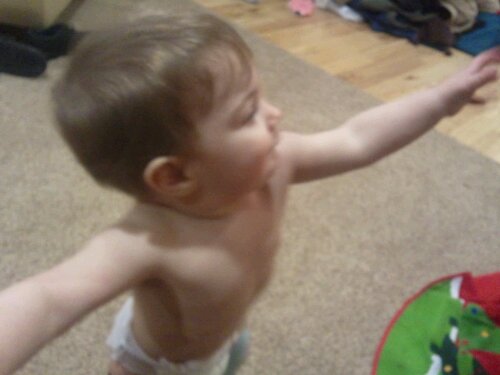 Scholastica loved it too, as you can see, she didn't feel she needed much in the way of clothes.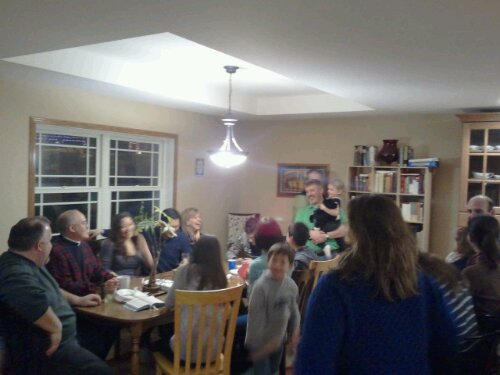 New Year's Eve, half of the Facefamily were down for the count, with the Providence Plague (thanks, Andrea) so Joshua stayed with those kids while I headed to the Logue New Year's Eve party. This is us getting ready to sing the Te Deum, shortly before midnight.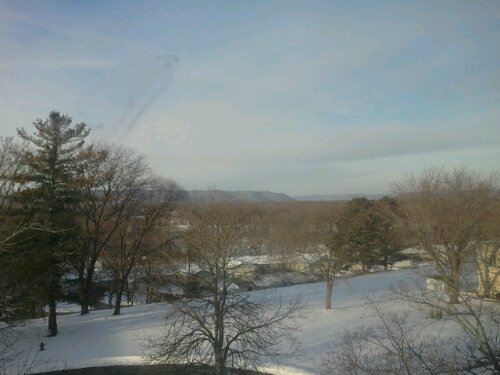 Here is a view from the apartment we stayed it, it was beautiful. La Crosse has bluffs, so there were lots of hills and the Mississippi River goes right through the city as well, it's in the picture somewhere. I'd move to La Crosse if I could, it was that awesome.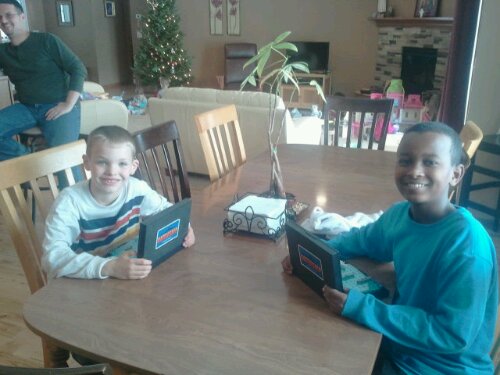 Martin and Karol playing battleship together and acting like they've never been apart!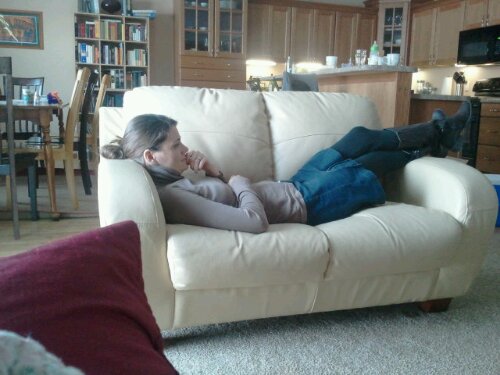 This is how Andrea spent most of the time while we were there. No, she was just recovering from a late night, early Mass, and someone throwing up during that Mass.
Once we recovered from the plague, it was time to hit the road. Our next stop was the Far West Suburbs of Chicago…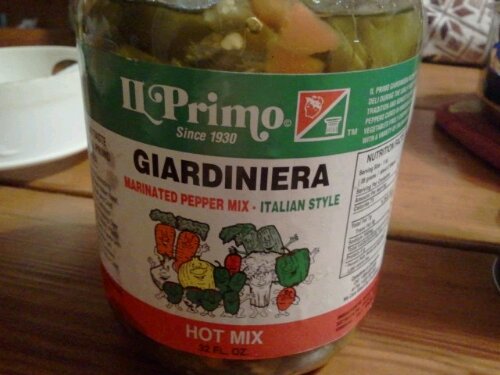 Home of this stuff. I will be ordering it on line. It is awesome, spicy, and delicious.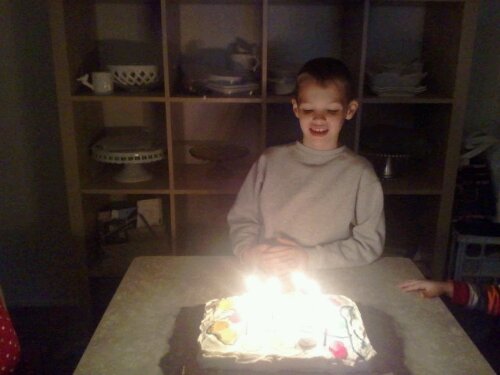 We also celebrated Karol's 8th birthday with our friend Kelly. She made him a cake and let the kids decorate it.
The next morning we were to head to Indiana and spend the day and night, then go to Mass, however the Polar Vortex was coming, so we had to adapt our plans a little bit.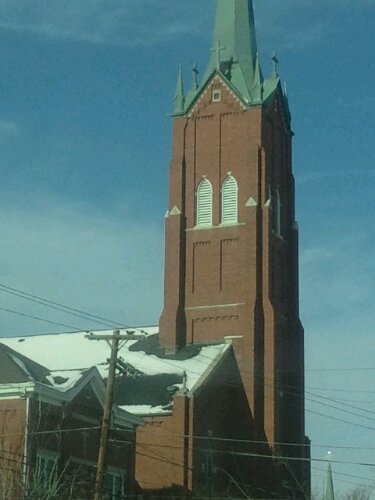 We went to Lafayette, spent time with Karol's godmother, and Caecilia's godparents, then headed to Mass. Â I miss St. Boniface. After Mass we headed to Joshua's sister's house for dinner, ate, then at 10pm hit the road for Michigan, to get ahead of the Storm.
We hit some snow and the normally five hour drive took nearly seven. Then we almost hit a herd of deer standing in the middle of M53, just two miles north of my parents house. Our guardian angels watched over us that day.
We made it though, got the kids in the house, then went back to sleep for a few more hours.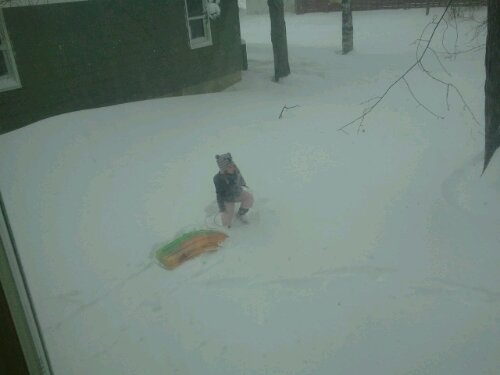 Over the next day or so, the temps dropped below zero and the windchills were -35 at times. The kids went out for 15 minutes though, and had a great time.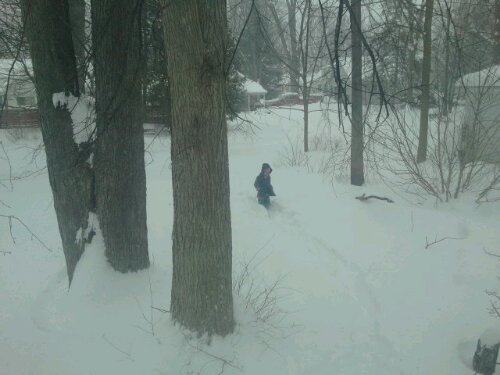 The snow in spots were up to their hips (and as of right now, it is 2.5 feet deep with another close to foot coming this week for them!)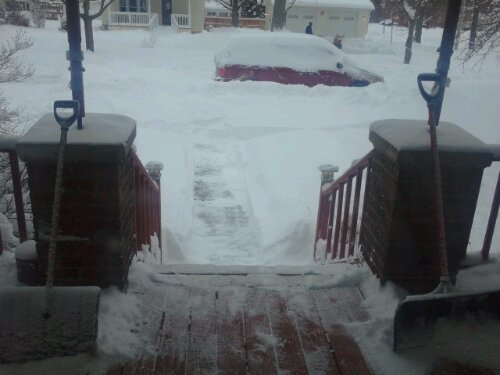 The van, covered in snow. The neighbor from across the street was snowblowing the neighborhood!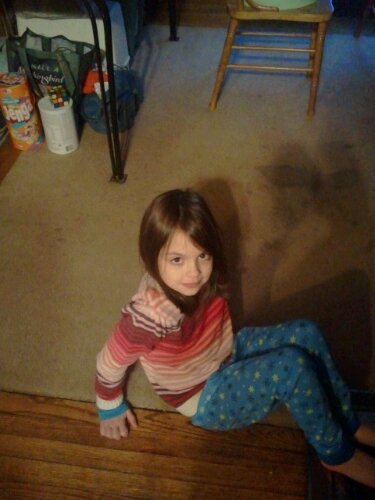 Margaret isn't too sure about the cold and spent a lot of time warming up. Because of the cold and the snow, school was cancelled for three days while we were there, so we weren't able to see my other sisters much, as they were snowed in or the roads were too bad to get out and go to them, but we were able to visit for a few moments with most everyone.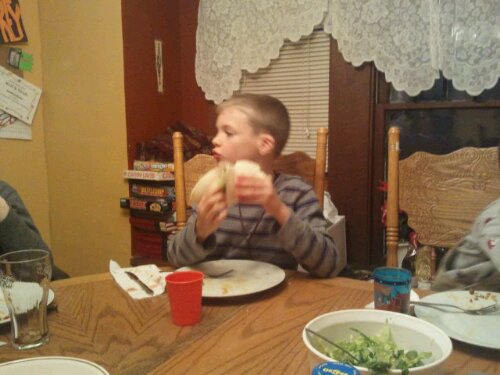 Then we ate some food, lots of food. In this picture, Karol is eating a taco shell full of lettuce, like a small sized salad amount of lettuce. He sure does like his veggies.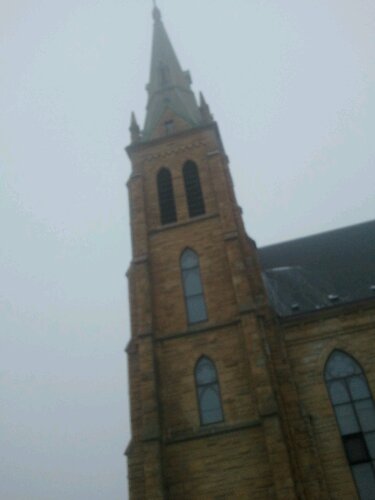 After leaving Michigan, we headed south and drove through Marion, Ohio, where Caecilia was born and baptized. We were able to stop in the church for a few moments to pray and then headed on our way to see this guy: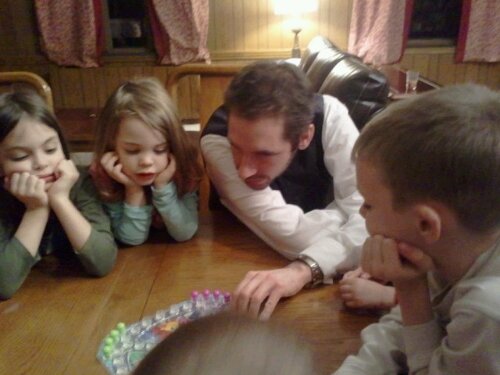 Margaret's godfather hosted us at his rectory, for dinner and games.
And let me tell you, this pizza was fantastic. I want more now. Right now.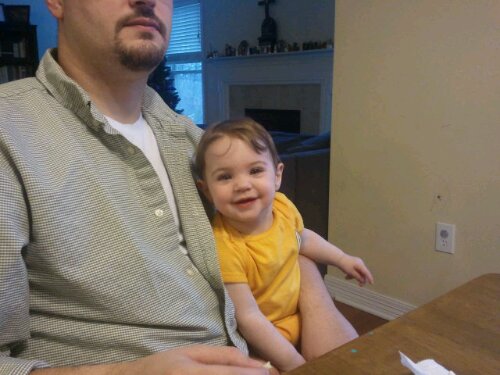 Our last night of vacation was spent in Columbus, Ohio, with good friends, good conversation, and good food.
We also had one final stop, at the Pontifical College Josephinum to see our seminarian friend, then we headed home.
While on our trip, Scholastica cut her first tooth, Karol turned 8 and Margaret turned 7, I got to see the place where I met Joshua for the first time, nearly 11 years ago. We got to visit the place we were married (and where two of our kids were baptized) and spend a lot of time talking with family and friends. It was a long trip, two and a half weeks, but I'd get back in the van today to do it all over again! (Perhaps next time without the Plague.)