I love cinnamon rolls. I love almost all things cinnamon, actually. Some mornings I wake up and want a nice cinnamon roll with butter, but don't have the time to make them before breakfast time, so make due without. I stumbled across the idea of a No Rise Cinnamon Roll a few months ago and let me tell you, these are great! I worked on a recipe of my own, and today I think I perfected it!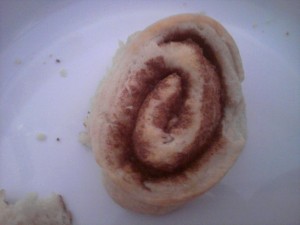 No Rise Cinnamon Rolls
Time:
Prep – 10 minutes
Bake – 17 minutes
Dough
2 cups all purpose flour
4 teaspoons baking powder
1 teaspoon salt
4 tablespoons of butter
1 cup milk
Filling
4 tablespoons of butter
1/4 cup sugar
4-5 tablespoons of cinnamon (or to taste)
Directions
1. Grease an 8×8 pan.
2. Turn oven on to 400 degrees
Filling:
1. Â Place butter into a microwaveable bowl and microwave for 30 seconds, to melt the butter. (Keep an eye on it, so that it doesn't burn, it doesn't have to be totally melted).
2. Add the sugar and cinnamon to the melted butter, stir. Set aside.
Dough:
1. Place the flour, baking soda, and salt into a large bowl. Cut the butter into small chunks and add to the bowl. Cut the butter in to the flour mixture until it looks like crumbs.
2. Making a well in the center, place the milk and stir until incorporated. This dough will be very sticky.
3. Turn the dough onto a well floured surface and knead a few times, to incorporate more flour (but don't over do it). When the dough no longer sticks to your hands or the board, roll it out to be 10-12 inches wide and 15-18 inches long. Make sure that it is not sticking to your board or counter as you roll it out. If it seems to be sticking, lift up and add flour underneath.
4. Spread the cinnamon sugar mixture onto rolled out dough, leaving a 1/2 inch margin on one side of the long edge.
5.Starting with the long end that has the cinnamon mixture on it, slowly roll the dough, in a semi-tight roll.
6. When finished rolling, pinch the seam together and lay seam down. Using a sharp knife or a board scraper, cut into one inch pieces.
7. Place cut side down, side by side, in your greased pan.
8. Bake at 400 degrees for 17 minutes.
9. Test for doneness (Temp around 190 degrees or lightly golden)
Serve with butter and coffee.