Here in South Georgia, we have Thunderstorm Season. The time of the year when all of our outdoor activities are done in the morning, not only because it is cooler then, but also because storms tend to pop up in the afternoon.  Some days it will storm at Joshua's office (1/2 hour away) and won't even sprinkle here. Heck, sometimes it will rain in town but won't do anything here. (We live five miles from town.)
Today, this is what the weather looks like down here, from the Weather Channel: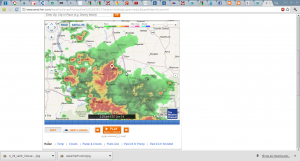 (click on it, it will be clearer)
See the red dot, that is where we go to Mass, see the mouse point, that is sorta where we live. We are going to Mass this evening, this should be fun. I do love thunderstorms. I love thunderstorms during Mass too.
Oh, yeah, these storms, they don't move quickly. I'd say we will get about a half inch of rain tonight, if not more.
(Do you see all those tabs I have open? You do!? Those are tabs with information to help promote vocations to the priesthood and religious life. I help out with Joshua's company a few hours a week and am very blessed to be able to help out!)