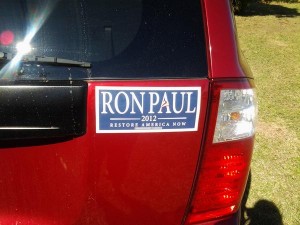 After we received word that our old van was totaled and the amount of the payout, we started looking around for replacement vans. We already decided that we did not want (or need) a car payment, so we started looking at mini-vans in our price range. Â Jacksonville seemed like our best bet for options and price, so we headed that way yesterday. (Thanks to Cassandra for watching the kids!)
Our list was made up of the same year, make, and model that was totaled. We liked the van, it was dependable and we've never had any major problems with it.  We headed to the first dealership and looked at, then test drove one that might fit the bill. First we noticed the A/C didn't work, then I turned on the blower. At one or 2, it was fine, at 3 it was loud, and at 4 it was horrible (and shot dirt at us). That plus a few cosmetic issues, like torn seat pockets, the decision was, no.  We returned to the lot and told the guy the issues we had. He would not budge on the price at all. $5995 (plus a $700 dealer add on??!!). And he wasn't letting us off the lot. I finally said "let's go to lunch and talk it over, dear." and we left. We did not return.
(Lunch was Chipotle, my favorite Mexican place!)
The second place we went to the van was a bit more expensive, but we figured we could work them down a bit. Sadly, they had just "wholesaled" the car that morning, because it had major issues. So, feeling dejected, we drove to the final place. That one had the same year, make, and model, with just about 1000 miles more for $2000 less than our insurance payout. The pictures looked decent, so we decided to look at it. We didn't even leave the lot. It creaked, the doors sounded horrible, and the final straw, the ashtray didn't close once I opened it.
Leaving that lot, it was 4:00 and we needed to get home. Joshua said he saw a dealership with a newer model of the van we had on the way to the last one, so we headed back to it. We pulled in and looked at it. Well, I didn't get out of the car. The salesman came over and immediately asked how much we could pay. Joshua named a price and well, let's say he met us half way. 🙂 We drove it and it was nice. The newer model year had roll down back windows and is a bit bigger, plus has stow and go seating. (plus side airbags and a shoulder harness seat belt for the middle seat in the very back, something the old one doesn't have. (Safety, y'all)
So in the end, we ended up with a new, nicer model, same make, for just a bit over what  our insurance check was. Driving it home last night, and then this morning, I really like it. It is very roomy and I think will be much better for future trips.
When we were getting the kids ready this morning (we needed to return the rental) Benedict found the Ron Paul magnet and took it to Joshua to place on the car. Yes, the election is over, yes Ron Paul will probably never be president, but until I get the "I love the Constitution" or "Liberty!!" sticker, Ron Paul will rock the back of the van .