Ash Wednesday was a day of fasting, so there isn't much to tell about what we ate around here. The kids ate full meals at each meal time, oatmeal with peaches for breakfast, bread, butter, cottage cheese, and fruit at lunch, and leftover fish and peas for dinner. For my full meal (which Joshua and I had when we got home from Mass that night) was an egg salad sandwich with celery on the side. Simple yet nutritious.
Yesterday was a bit of a crazy day, as we had our grain co-op pick up at 1215. For breakfast I made coffee. Okay, the kids had fresh fruit (strawberries and bananas) with bread. Lunch was a quick one, so we could leave to pick up the grain. The kids had cottage cheese, tomatoes and a slice of bread*.
Dinner was scheduled to be  Salad with shredded chicken, hard boiled eggs, and home made dressing. We did have a salad, but I cut up the chicken in to small pieces, "soaked" them in a lemon-mustard sauce, then Joshua breaded them in a cornmeal-flour mixture and fried them. The salad had lettuce from our backyard, romaine hearts from Trader Joe's, spinach from Trader Joe's**, roma tomatoes, green peppers, shredded cheddar cheese and hard boiled eggs. I made a honey mustard dressing (recipe below) to go over top.
The salad was served with a side of Ezekiel bread (recipe also below). The bread was a hit, the kids call it "honey bread" and they asked for seconds.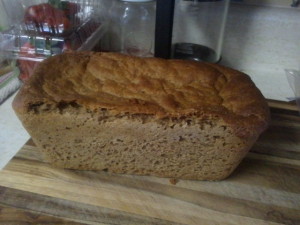 *I serve a lot of bread in this house, however, I think the bread I make is healthy. I use fresh ground wheat, so none of the good stuff is taken out then I use basic ingredients like eggs, water, salt, vinegar (or yogurt). No additives or preservatives.
**Yes, I drove to Tallahassee for Trader Joe's last weekend. I've done it before and I'll do it again. It's a nice trip with my friend, kind of like a girls day out, plus a chance to pick up foods I can't get around here.
HONEY MUSTARD RECIPE:
4 oz Rice Wine Vinegar (I had a bottle, we seldom use it, so I finished it off.)
4 tablespoons yellow mustard
3 tablespoons good quality honey
1 teaspoon onion powder
salt and pepper to taste.
Mix all ingredients in a container with a lid (or a blender) and shake to combine.
Combine the following whole grains:
2-1/2 cups hard red wheat
1-1/2 cups spelt or rye (Biblically spelt was used, Ezekiel 4:9, I used rye)
1/2 cup barley (hulled barley)
1/4 cup millet
1/4 cup lentils (green preferred)
2 Tbs. great northern beans
2 Tbs. red kidney beans
2 Tbs. pinto beans
Stir the above ingredients very well.  Grind in flour mill. (NOTE: all of these grains and beans can be ground in WonderMill or NutriMill with no problems).
Measure into large bowl:
4 cups lukewarm water
1 cup honey
1/2 cup oil
Add to liquids:
freshly milled flour from the above mixture of grains
2 tsp. salt
2 Tbs. yeast
Stir or knead until well kneaded about 10 minutes. This is a batter type bread and will not form a smooth ball.
Pour dough into greased pans. You may use 2 large loaf pans (10x5x3) or 3 med. loaf pans or 2-9×13 brownie pans. Let rise in a warm place for one hour or until the dough is almost to the top of the pan. If it rises too much it will over flow the pan while baking. Bake at 350F for 45-50 minutes for loaf pans and 35-40 minutes for brownie pans.
*For fasting divide bread into 8 equal parts weighing 1/2 pound each. Eat a 1/2 pound cake and drink a quart of water every day. For fasting I do not alter the recipe.
This is a very sweet, moist, cake-like bread. For a more traditional bread texture I have used this combination of grains in The Beckers Bread and Roll recipe. Replacing the 7 cups of flour with the 9 cups of flour from the milled grains in this recipe. You may also add fruits and nuts or use the flour made from this mixture in other favorite recipes. This healthy combination of grains and beans is worth experimenting with. Combining grains and beans makes a complete protein.