I have had a small obsession with making Chocolate Chess Pie recently. So much so that I made three of them in a week. (Don't judge, I shared. The first one I made just for dessert, the second one I made because we had company, and the third one I made to show my friend how awesome it was.)
Joshua told me that I should start working on something else, since I managed to perfect the pie, I should move on to something else. (Sure, I will, after I make this one last pie, dear.)
I created this recipe by mixing a few recipes I had found and for the first time out of the gate, it turned out pretty well. It's also nice because it is a smaller recipe, it only makes a dozen cupcakes, so there aren't a lot in left overs. If you don't have Coconut Cream Concentrate, I'd say you can go without it, just make sure to add just a bit more butter. To add the coconut flavor, sprinkle some toasted coconut flakes on top before eating.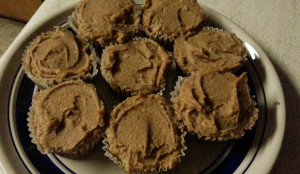 Chai Tea Cupcakes
½ cup butter, softened
¼ cup Coconut Cream Concentrate
1 cup sucanat (sugar)
1 egg
1/2 teaspoon vanilla extract
1 ½ cup fresh milled hard white flour
1 ½ teaspoons baking powder
½ teaspoon salt
½ teaspoon ground ginger
½ teaspoon ground nutmeg
1 ½ teaspoon cinnamon
½ cup brewed chai tea
½ cup whole milk
1. Cream together the butter and the Coconut Cream Concentrate for 2 minutes.
2. Scrape the bowl then add the sucanat (or sugar) and continue creaming for 3-5 minutes.
3. Scrape the bowl and add the egg and vanilla, and mix until blended.
4. In a small bowl, add the flour, baking powder, salt and spices. Mix with a fork.
5. Mix the tea and milk together.
6. Add the flour and milk/tea to the batter in two installment, mixing until they are incorporated.
7. Fill cupcake holders to about 2/3 full and bake at 350 until finished, about 20-25 minutes.
Icing
3 tablespoons butter
3 tablespoons coconut cream concentrate
3 cups powdered sugar
1 teaspoon cinnamon
¼ teaspoon ginger
¼ teaspoon nutmeg
3 tablespoons milk
1. Cream the butter and coconut cream concentrate together.
2. Add the powdered sugar and mix together until it is a incorporated into the butter.
3. Scrape down the sides and bottom then add the spices. Mix to combine.
4. Slowly add the milk, a tablespoon at a time until it reaches the desired consistency.
If you'd like to order Coconut Cream Concentrate, you can do so here:
(I do get a small compensation from Tropical Traditions if you order through the referral link posted.)