We recently traveled back North, first stopping in Indiana then heading to Michigan to visit with my family for Thanksgiving. It was a great trip, with lots of laughter and visiting, some snow, and many many visits to Our Lord.
We left in the early hours of the morning on the 19th and managed to make it to South Union, Kentucky for Mass at the Chapel of Divine Mercy and some visiting with priest friends there. Next up was Lafayette, Indiana where we stayed with our good friends and had a great time visiting with them and their kids. The next few days were a whirlwind of visiting with friends and family and a snowstorm thrown in for good measure.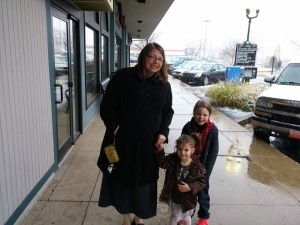 The main reason for our trip back to Lafayette was to attend Mass and Vespers for The Feast of the King. I'm glad that we have made this a tradition for our family, it is a wonderful way to end the Liturgical Year celebrating in a visible way, show-able way, smell-able way, our faith and love for our King.
In addition to the worshiping of our King, we  were able to see that we are not alone in our striving to live our Faith, something I often feel here in South Georgia. We talked with friends, our kids ran around playing with new friends they made and we fit right back in with the community there.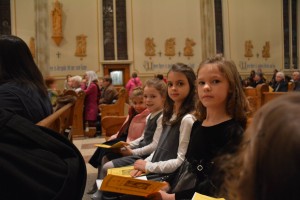 The next leg of our trip took us up to Michigan, where we had plans to have dinner with my cousin and his family. They ended up inviting my aunt and uncle and his brother and wife as well, so it was a big family reunion and a great time. We stayed with my parents and for a good chunk of the Michigan trip, relaxed. The kids played with cousins, I visited with my sister. Â I actually fell asleep at 830 while watching tv, it was great.
We woke up early on Wednesday and started pie making, which was all done by noon, so that Joshua and I could head out to have a day in the City, and when I say City, I mean Detroit. We started by meeting up with Detroit Seminarian, Adam, for coffee, had dinner in Greektown, walked (!) to The Joe Louis Arena for a Wings game, then headed home. I was super impressed with how much the Downtown area has changed (for the better!)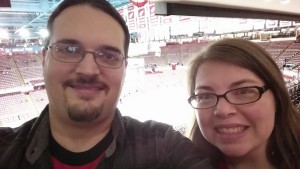 Thanksgiving was great. We started with Mass at the Parish near my parents, which now offers an Extraordinary Form on Thursdays, so the Mass on Thanksgiving Day was in the EF. We headed home and just hung out for the day. Oh, I did get that nap in too, it was great. My dad's sister came out for dinner as did my sister and her boyfriend. We sat around the table for two, maybe three hours visiting and catching up, it was everything I had wanted for Thanksgiving.
(The kids did get into a cranberry fight at the kids table, which my mom and husband discreetly cleaned up, then made them wash the dishes!)
Friday we celebrated my dad's birthday and then began our trip home. We spend the night in Lexington (at a super awesome hotel where our room had a "living room" and two bedrooms. It was amazing and cheap! It also just so happened that our friends from Lafayette were visiting family in Lexington, so we met up for coffee before heading on the road again, that was a fun time.
We stopped in Chattanooga for the Vigil Mass at the Basilica on the way home and was the Mass ever beautiful there. Chanted propers, St Micheal Hymnal, St Isaac Jouges Missal, Father celebrated ad orientem and we did not sing "Soon and Very Soon"!
We got home late on Saturday evening/Sunday morning and while I'm not thrilled with the idea of being back in Georgia, I'm hoping our next trip home won't be too long in coming and will be more permanent.