(I started this on Friday….)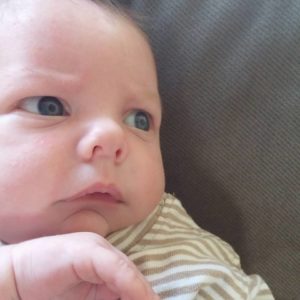 Peter is a month old today. I'll be honest, he hasn't settled into much of routine and some days he's awake and alert all day and some days he's a sleeper. Some days he's super fussy and pretty much needs to be held all the time (usually on a day I have things to do and he won't permit being held by any other person.) Some days he's just happy as a clam and thrilled to have his big brother or sister hold him.
The kids love him very much, to the point where I need to shoo them away because they are always touching or kissing him and it is keeping him from sleeping.
He got to meet his godfather on Monday, the 4th and was baptized on Tuesday. His godmother was not able to be here, however he was able to talk with her on the phone that evening.
Going back to routine, now that I think about it, if I nurse him around 11pm, he's usually good until about 330 or 4 and then he'll nurse again, then sleep until about 730. So I guess he's getting a good chunk of sleep during the night (which means, in theory, that I am as well, ha.)
His favorite activities are snuggling, sleeping, and talking to the ceiling fan. I'm sure I caught him have a deep philosophical conversation with it today.
So there you have it, a sleep deprived mama blogging about her youngest  🙂  It's not profound, but I'll be happy I did this so that I can remember the things he did at this point.