As our tradition, we don't decorate the tree until Christmas Eve. Yesterday afternoon, we ate an early dinner then started decorating the tree. Karol had so much fun, he was such a joy to watch. This is the first year that he really gets what is going on.  When we were done, we let the kids lay on the floor in the dining room and take naps there, looking at the lights.
After naps were over, we got ready for Mass at Holy Family in Columbus.  I was very thankful we decided to go there this year for a few reasons but I will only share one here. They use the St. Michael Hymnal. When we sang to opening hymn, I thought at St. Boniface, right now, they are probably singing the same hymns. I am very thankful for those wonderful people who put together the hymnal! Thank you Fr. Lutz for purchasing it for your parish!
The wee ones were pretty well behaved at the Mass and while I stood in the back with our baby chatterbox, I cannot complain. The Mass offered last night was the Extraordinary Form and wonderful. We headed back home after mass, around 145 am. When we got home, we ate cookies and drank milk. C seemed confused about what was going on. Of course she didn't complain, she just stuffed cookies in her mouth. She was so tired, she would burst in to tears, then would see a cookie in her hand and away the tears went, until she forgot about the cookie in her hand again. We laughed at her for a few minutes then realized we were mean, so we all headed up to bed at 330.
The kids slept until 9 this morning. Joshua was up before all of us and put breakfast in the oven then let me sleep until almost 10. I am sure you wonder, what about presents. Well, we wait until the Epiphany for gifts to be given and opened. Today is spent eating and playing together as a family and eating some more. I see that the two older kids just cleared off a plate of cookies. Now they are in their sugar comas and watching a movie.
Merry Christmas to you all!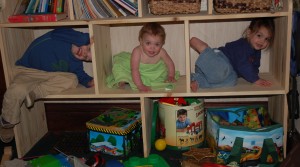 This was on Wednesday. C started crawling in to a cubbyhole so we stuck the rest of them in for a nice picture. Of course, this was the day after we ordered the pictures for our Christmas cards.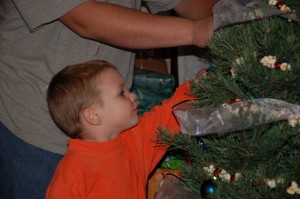 Karol was so very excited about putting decorations on the tree.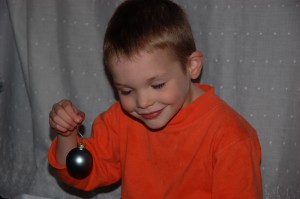 Karol holding an ornament. He loved this picture, so I had to put it in!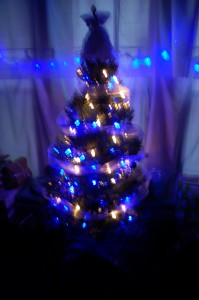 The finished tree. I was playing with camera settings and came up with this!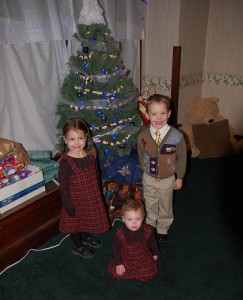 Before we left for Midnight Mass we had the kids pose in front of the tree. This was probably the best of the five I took, C just looks like she would rather be anywhere but here.