This past weekend, Joshua became a 4th Degree in the Knights of Columbus. He is forever to be  known as Sir Knight Joshua and I am Lady Beth. While I didn't go out and buy a new dress for the occasion, (mainly because I did not want to spend the money on a maternity formal gown) J did get a tux. (Here's an FYI, tuxes aren't that expensive, $40 more than renting).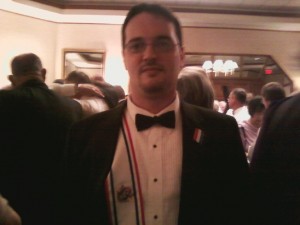 This is a picture of Joshua before the Exemplification (the part where he becomes a 4th Degree Knight) so his baldric (the sash looking thing) is not across his chest yet, that happened during the ceremony. Most people have asked where his cape and funny hat are. Those are for the men in the color guard along with a sword and not a required part of the 4th degree. They are also costly, so perhaps next year.
The men and women of the 4th degree are all very warm and welcoming. I was a bit afraid that I would have no one to talk to while he was off doing his thing, but that was not the case. The new Ladies were treated to a wonderful lunch and conversation and were welcomed warmly in to the 4th degree family.
After the 4th degree Exemplification (done in private but not "private" like say the Masons) we gathered together and attended Mass then we had a great great dinner. Who ever thought up the idea to put spinach in the mashed potatoes, whip them, then put them in a pastry bag to beautify the presentation?