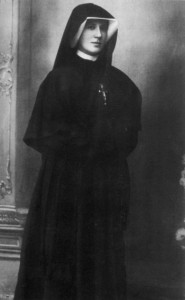 Today is the Feast of St. Maria Faustina of the Most Blessed Sacrament. I have  a special devotion to St. Faustina and picked her name for my Confirmation name seven years ago. Our Lord picked this simple religious sister to share with the world His Divine Mercy.
When I decided to be serious about my faith, I  started attending classes in preparation for Confirmation, I prayed that God would lead me to the right name, a name that would inspire me help me to grow closer to Him. I learned of the Divine Mercy Chaplet while participating in my first Life Chain and wanted to learn more  more about St. Faustina and the Divine Mercy of our Lord. The more I learned of St. Faustina, the more it became clear that she was to be the one to help me grow closer to Our Lord.So, when I was Confirmed, just seven short years ago, I took the name of Maria Faustina and am ever thankful.
I highly recommend the reading of her diary to those who have not yet had the joy of reading it. I also recommend it as reading to those who have fallen away from the faith  or who question the Mercy of Our Lord.
Here is more information about Saint Faustina and here are directions on how to pray the Divine Mercy Chaplet.