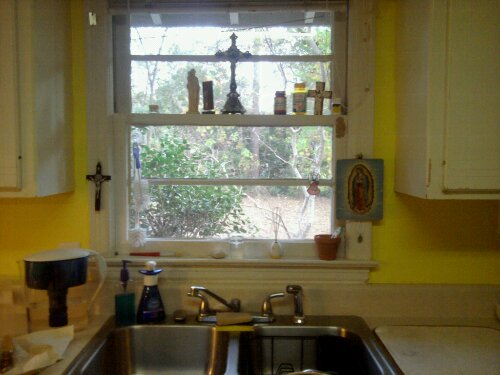 Have you seen this blog? I started reading it a few months ago and have fallen in love. Leila often has posts that are just perfect for me and often are a swift kick in the behind for me to get in gear to do things…or a boost to help me remember why we do what we do in our family!
Today she had a lovely post about the kitchen sink, check it out.
I have to admit that my current kitchen sink makes me sad. While I am happy that Joshua has found a job so well suited for him, a part of misses our house in Ohio. Well, mainly the kitchen, I loved that kitchen. This kitchen has very little counter space and the cabinets have not been taken care of very well, so they are warped and the paint is pealing from them. Our faucet is too short and I have to really reach over to rinse dishes. I gave up on hand washing dishes when I was pregnant, it hurt to do the reach.
Alas, the flow….
The dining room is to the left of the kitchen, when facing the sink, so our dirty dishes are stacked to the left of the sink and hand washed ones are placed on the dish drying mat to the right. I have a draining think in the right sink for most dishes and the mat catches the over flow. Above the sink, on the window, I keep a bottle of pain reliever, vitamins and a containers of Burt's Bees hand cream, all out of the way of wee little hand but accessible to me so I remember to use them.
I also have a few religious articles hanging, as a reminder to pray as well as a reminder on frustrating days of why I am a stay at home mother, to get these kids to meet those people at the end of their life journey. Often times, the window also holds things I take away from hands that should not have them.
It is a simple kitchen, perhaps a lesson to me, on simplicity, as the Holy Family was simple.