Right now…10:00 am, cold much too cold for South Georgia. Kids are playing all around me, Benedict is sleeping nicely on the other couch and the washer just beeped at me, pleading for me to keep it full all day today.
This weekend… was jam packed! We went to Charleston, SC to visit my sister for two days and had a great time, a great time! We met up with her on Saturday morning, and it was raining a bit. We decided to head out to the Charles Towne Landing and spent the day. We learned how to make beef stew over an open fire, how to make pegs for the table, to keep it stable and how to start a fire using flint and steel. We also got to see some animals and even got to watch the birds eat. We headed out to dinner then to my sisters to visit more, then back to the hotel, for a good nights rest.
Sunday we headed to Mass. We planned on going to the Cathedral of St. John, but I was concerned about parking so I looked around for some alternatives. We decided on going to Stella Maris Parish on Sullivan's Island. What a wonderful little church! We arrived right before Mass started, and it was packed, so Joshua stood in the back with the three older kids. I was seated by an usher who must have thought I was a bit smaller than I am, but I managed to squeeze in next to a family, after the usher told them to "move down". Let me just say, the ushers there do an amazing job, there was not an open spot of pew to sit on.
We swung through downtown Charleston to snap a picture of the Cathedral, so I could send a picture of it to my friend (who, if I am correct, got engaged there) then back to my sisters house for lunch.
Our drive home was uneventful, slightly windy, but the roads were pretty empty. We stopped in Waycross to visit Kroger and stocked up on things we needed and that Kroger has the best price on. Did you know milk there is usually $2.28/gallon. It was on sale for $2.18 but we didn't need any this trip. We did get butter for $1.98/pound. Yes, I have eight pounds of butter in my freezer right now. How much are butter and milk by you? Oh and flour was $1.35 for a five pound bag!
Some plans for the week…bake for Christmas gifts then set up a bit for Christmas. The Piano Tuner is coming this week and we are finally going to have it set so that I can use it….to put things on, I don't play ;). I am looking forward to that. Of course we will do a bit of school work. Today we will celebrate the Feast of Our Lady of Guadalupe and St. Lucia, by coloring some pages.
If I can find time for myself, I want to…our hotel room had "crazy pillows" that the kids just loved, so I am going to work on making them, if I have time, for gifts for them.
Some prayer intentions for the week: For Stephen, our Favorite Seminarian as he begins his finals. For those living in the Nort' Country and are being buried with snow right now, that they stay safe and warm. For those who do not have shelter or enough food, that their needs are provided for.
Something that makes me smile: A picture my sister took of Benedict on Saturday. He is all snuggly in his sling and enjoying the ride.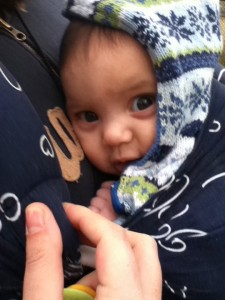 For more Monday Musings, check her out!