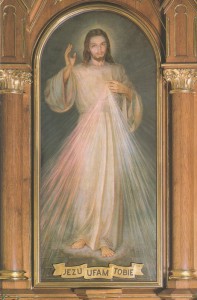 In the 1930's, a nun named Sister Faustina Kowalska, who lived in the convent of the Sisters of Our Lady of Mercy in Warsaw, Poland, experienced daily visions of Our Lord, in which He would tell her of His unfathomable mercy, and the need for the message of His mercy to be spread throughout the entire world.
On February 22, 1931, Jesus appeared to Sr. Faustina in a stunning vision. He was walking toward her, wearing a white garment, and bore the wounds on His hands, side and feet from His Crucifixion. His right arm was raised in blessing, His left hand opening his garment to reveal two rays of light that shone from His Sacred Heart. On the left was a red ray, and on the right was a white ray.
Jesus told Sr. Faustina, "The pale ray stands for the Water which makes souls righteous. The red ray stands for the Blood which is the life of souls. These two rays issued forth from the very depths of My tender mercy when My agonized Heart was opened by a lance on the Cross. Blessed is the one who will dwell in their shelter, for the just Hand of God will not lay hold of him." (The Diary of Saint Faustina, Divine Mercy in My Soul, #299).
He told her, "Paint an image according to the pattern you see, with the words, 'Jesus I Trust in You'. I desire that this image be venerated first in your chapel, and [then] throughout the world." (Diary, #47).
Jesus told Sr. Faustina that He wanted a Feast of Mercy to be established on the first Sunday after Easter. On the Feast of Mercy, Jesus desires for priests to preach about His unfathomable mercy, and then to solemnly bless the Image of Divine Mercy, displaying it for public veneration.
On Divine Mercy Sunday, April 30, 2000, Pope John Paul II canonized Sister Faustina (the first Saint to be canonized in the New Millennium) and declared that from that day forward, the first Sunday after Easter would be Divine Mercy Sunday.
This year, Pope John Paul II will be beatified on Divine Mercy Sunday — May 1, 2011 — the very feast that he established, died on, and had such a great devotion to. May he intercede on our behalf, along with Saint Faustina Kowalska of the Most Blessed Sacrament, and may we follow their great and heroic examples.
(Thanks go to Bernadette for guest writing this blog post for me!)