Last night we celebrated Joshua's birthday. He isn't big on his birthday but the kids would just die if we didn't have cake 😉 Joshua likes German Chocolate cake so I found a recipe for and was very excited to try it out.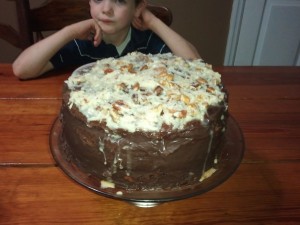 Here is Karol, waiting for the cake to be cut into. Pardon the drippy icing, I am still learning how to do cakes w/humidity (in February).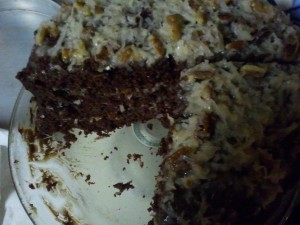 The cake after being cut into, it held up nicely!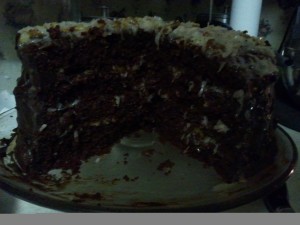 Side view, doesn't it look great!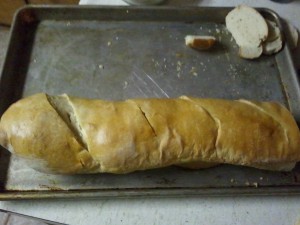 On Thursdays, we go to 6pm Mass at our Parish. This means that we do not get back home until around 7 or so (last night was 745 b/c we stopped by Lowes). What we generally do is feed the kids before Mass then do bedtime routine when we get home and dinner after they are in bed. Last night, we did cake first, then made dinner for ourselves.
The other night Joshua talked about having a chicken sandwich, something we never have at home, mainly because I don't buy boneless skinless chicken breasts. I do, however buy chicken thighs. I decided to try my hand at a chicken po-boy. I used a bread recipe I got from my friend Stefanie and kinda put the rest together from things I have seen on cooking shows.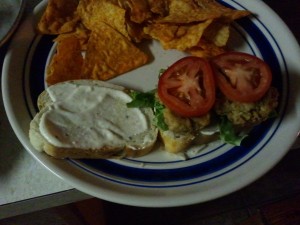 Here is Joshua's sandwich (well one of three or four that he ate!). He really enjoyed it. So much so that he kept complimenting me on them.
 (Oh, and the anniversary part? Nine years ago yesterday, I met Joshua.)