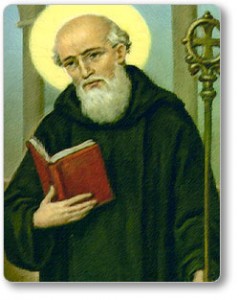 "We must know that God regards our purity of heart
and tears of compunction, not our many words."
Rule of St. Benedict, Chapter 20
Today is the Feast Day of St. Benedict of Norcia. We have a special place in our hearts and home for St. Benedict. Our dear friend, Father Basil is a monk in Norcia, Italy, the birthplace of St. Benedict . Our youngest is named after this wonderful saint as well!
tHappy Feast day to the Monks in Norcia and to Benedict Thomas!