Yesterday Benedict was running a fever, as was Caecilia. Â He even took himself upstairs for a nap yesterday afternoon.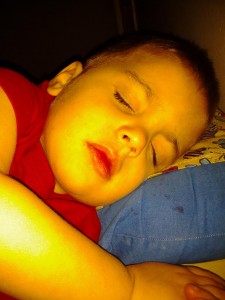 At some point last night, we had three of the four kids in our bed. Three of the four kids all running fevers. Joshua actually turned the ceiling fan on at some point because it was so hot in our room. I think I managed about 10 minutes with Benedict next to me then I had to vacate the room, I could not breathe. The boys share a double bed and knowing that both of them were in my bed, I grabbed an extra pillow and headed there. I got a bit more sleep, then woke up to the alarm for Mass.
Since the kids were sick and all running fevers (including Margaret), we decided that I would go to Mass and Joshua would stay home with them. (His throat was scratchy and well, I brought the cold home from my travels and I am getting over it.)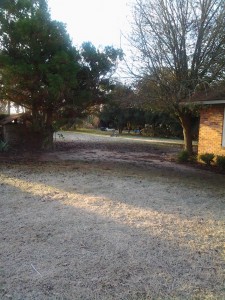 When I got in the car, this is what I saw: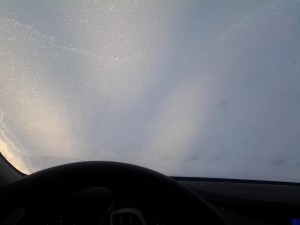 I could almost pretend it was a heavy snow covering the windows.
It was a nice chilly drive to Mass this morning. I actually wore my heavy winter coat and a scarf. (To be honest by the time I got to church, I did not need the scarf and by the time Mass was over, the heavy coat was overkill.)
I was able to bring our Lord home to Joshua and Karol, so the half hour drive home was extra time I could pray with our Lord, something both needed and desired!