Could there be any cuter of a baby girl? (Okay, I'm sure there is, but really, really, this one tops the list!)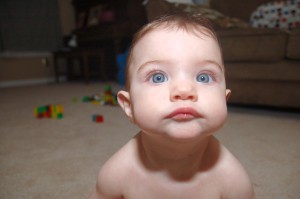 She's crawling all over, sitting up on her own, and today discovered that she could suck on her own foot. She attacks the Lego towers, eats paper on the floor, likes to have tons of attention, and knows what to do when a camera is put in her face.
*Note, clicking on this image will give you a huge, screen filling image of Baby S, just so you know.