September 5, 1942, the day my mother's parents were united in Holy Matrimony. They are no longer with us, my grandpa dying first in October of 1990 and my grandma passing away in January 1995, however they both impacted my life in ways that I didn't fully know at the time and that in many ways I still don't know.
I am certain because of these two wonderful examples, I am Catholic today. They both were faithful Catholics until their dying day. I remember going to Mass with them and my grandpa using his thumb to help me follow along with the Creed. It is a very clear memory, one that I think of many times while praying the Creed at Mass. He took two school aged girls fishing with him many times and did not complain when their giggling or talking scared the fish away. He was a Fourth Degree Knight of Columbus and boy did he look handsome in his regalia.
My grandmother was such a peaceful soul, confident in the Will of God. Oh, how she angered my teenage self when she would say, "There are no guarantees," or something along those lines, that required me to accept there was someone else in control higher than myself. I remember one time she told me she drove from Detroit, Michigan to Rochester, New York and back without turning on the radio once. Again, my teenage self was horrified at all the silence, but now I smile when I am in the car and keep the radio off, now I understand the meaning of silence. Every Tuesday she would go to church in the morning for an hour. If I recall, it as 10 to 11 am. I now know she went to adoration, but back then, I thought she was just going to make sure no one broke into the church.
Hardly a day goes by that I don't think about them. In all honesty, I have tried to model my home and family following their example. Their quiet devotion and love of our faith helped me to stay connected to the Church even when I had strayed. I couldn't think of them without thinking of God and heaven. Â I'm pretty sure that it was through their intercession that I found my way back.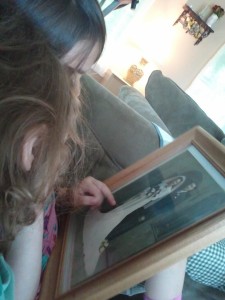 Last night, in honor of their 71st wedding anniversary, I posted a wedding picture of my grandparents on Facebook. The comments I received on it from a few cousins and my aunt, made me smile and made me realize what an impact they had on the lives of everyone they met. One cousin said that a day doesn't go by that he doesn't think of them, and that made me smile. My aunt who married my youngest uncle never had the chance to meet my grandfather, but was blessed to know my grandmother shared some memories of her. Another cousin commented that they'd make the greatest great-grand parents…and that is true. I'm sure at 92, Grandma would be in the kitchen mixing up chocolate chip cookies with the help of her great grand children. If Grandpa were still here, he'd be sitting in the garage, listening to the Tigers or Lions game on the old radio, sitting on a lawn chair, drinking a beer. Â And they'd both be walking to Mass every Sunday like that had for many years.