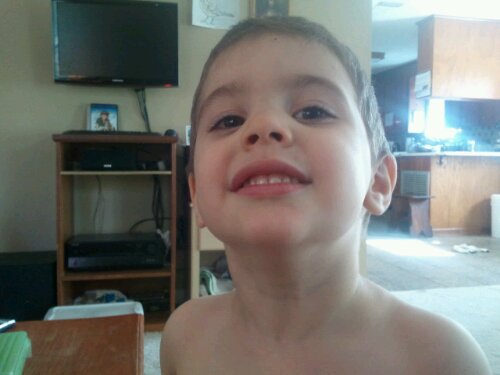 This kid turned three two weeks ago. What? How did that happen? Here he's posing for  a picture we sent to Joshua while he was in Dallas this past week. He's quite the ham, as you can tell. He loves to build Legos and color coordinates his towers. He is also very helpful around the house as well and eats like he's never been fed before. He also likes to pray and thinks that every time we sit down to eat that it is his turn to lead. He has a little litany that he does as well, that goes on for about a minute or so. How could our Blessed Mother not smile with joy at the words "St. Mama Mary, pray for us!"?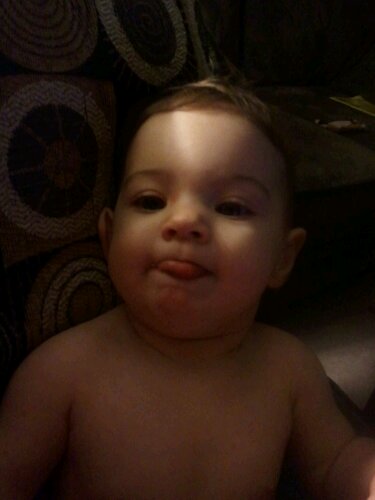 She will be six months on Sunday! SIX MONTHS! She's been pulling herself up on a few things, which blows me away. She chases the big kids around the house as well. She loves the attention she gets from the big kids and gets kinda sad if there is no one around to notice her. She likes to stick out her tongue but getting a picture has proven difficult, but I finally got one.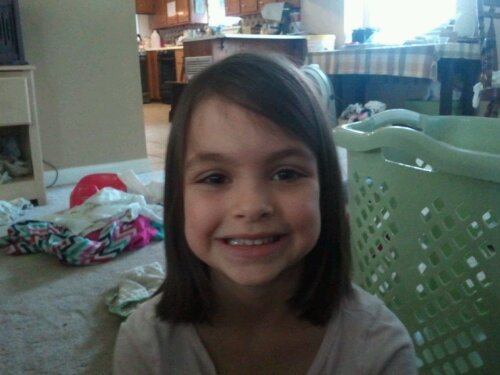 Margaret is my helper! In this picture, she was sorting clean laundry for me and folded a good bit of it. She just started second grade and has impressed me with her diligence in her school work. She also likes to draw and is turning into quite the little artist. She's part of a Little Flower group and loves all things St. Therese. She also loves St. Michael and has proclaimed him her new favorite saint.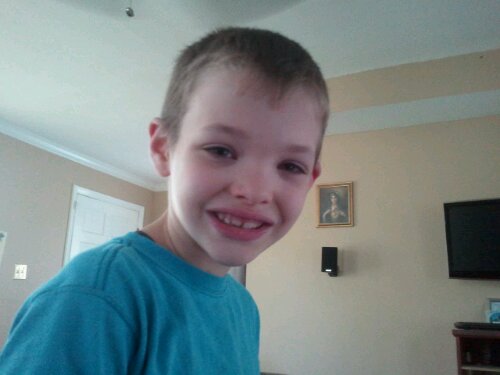 Oh, Karol, the first born. Some days I'm amazed I don't have a head full of grey hair because of this boy, but he is such a gentle soul. He started third grade this year and is learning that schoolwork gets harder as you go along. Some days we work for 5-6 hours on his subjects, and most of the time, he's not a fan of that, but he's figuring out that working hard will get him his half hour of video game time in the afternoon. He is also the chicken man in the house. He takes them out each day, watches them while they peck around the yard, then collects eggs.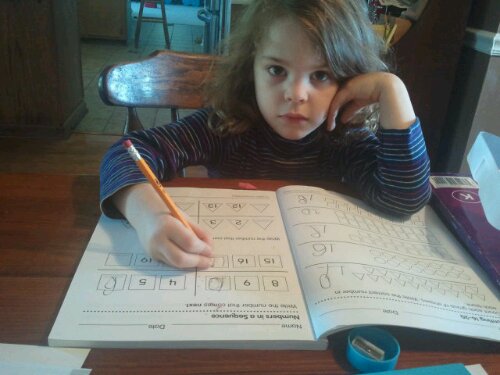 And this is the little girl my mother wished upon me when I was a little girl. Â She's me in just about every way, temper and all. Â She's a loving little one though and love to give hugs and kisses. She always asks to hug people as we leave their house or they leave our house, it's quite charming. She's getting to the point where she doesn't hide when it is time for chores and actually offers to help me out. She love to color and play with her little sister. Â Oh, and she is learning to read. We've (well Joshua) has been working with her for a few months now, but this week she just took off on her own and has been sounding out and reading words.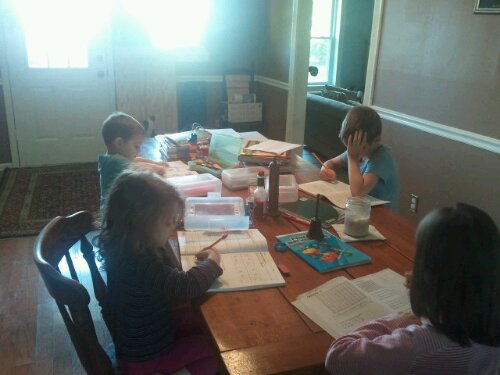 No, school doesn't look like this everyday, but hey, if Benedict wants to sit and color, that makes me happy. If he's not coloring, he's usually running through the house like a madman or pretending to be a very loud superhero. This year, when I ordered school supplies, I made sure to get everyone their own pencil box and told them they got two pencils and it will cost a quarter to replace them if lost, haven't lost a pencil yet.
We are also doing our third year of Kolbe and still really like it. In addition to the lesson plans they send me, I sit down each day and write out what I expect the big kids to get done, so a daily lesson plan. It helps a lot, as I am not always able to sit at the table with them, and they are able to move on to the next subject. Â When done, they just check off the box and move on. Then I go back later and correct the work, make notes, then give feedback. It works out pretty well, I think.