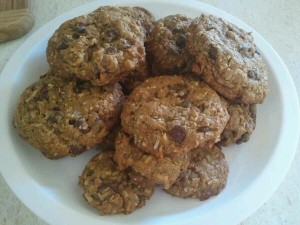 Nine years ago this week, we found out that I had miscarried our first baby. I wasn't very far along and I didn't know if the baby was a boy or a girl, but I was certain I was expecting a girl, so we named her Gianna Marie, in honor of the great St. Gianna and for Our Lady.
We were blessed to have her with us, even if for a few short weeks. Our kids know about the little baby who went to God and talk of her often. Karol is at the age when he wonders what life would be like with her here, but he knows it would be very different because he wouldn't be here.
We celebrate her life twice a year, around the date I miscarried and again in November, on what would have been her due date. Sometimes I make a cake, sometimes we have ice cream sundaes, this weekend we did cookies, big fat cookies, scooped out with an ice cream scoop sized cookies, because really, she is a big deal.
Our goal as parents is to get our children to heaven, and while it was hard to lose a child (and it is still hard, I cry whenever I think of her), ultimately, she is in heaven, she's with God, our job with her is complete.