Joshua's nephew, Blake, and his wife, Jenna, were visiting Florida, so we made plans to meet up with them and ended up deciding on checking out Rainbow Springs State Park. We had been to a different spring in the Panhandle last weekend and were impressed and were looking forward to checking out another spring. (Note: The waters in the springs in Florida are 72 degrees year round, so nice and cool for swimming in 90 degree weather.)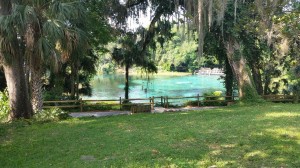 We were not disappointed! It was great. The water was cool, though the swimming areas was crowded, it wasn't packed, so we had a lot of room to float/tread water, and that we did. The water was over six feet deep at the end of the dock. When we were getting in, Joshua got in first, and when he stepped off the bottom step, he went under water. Thankfully we had put the little kids in boats and the bigger kids had arm floats and fun noodles (and strong swimmers) with them. We swam out and had a great time, visiting and watching the kids get used to playing in deep water.
Margaret was fun to watch, she was all over the place and pretty much taught herself to swim. She and Karol both jumped off the dock into the water and thought it was great. Caecilia thought it was great when she got to hold my foot and I'd move her across the water.
Benedict and Scholastica played in their little boats and Scholastica loved getting splashed.
The water was clear to the bottom, and we could see fish swimming around down there. Next time we go back, we'll have goggles to help us see all the other things down there.
We ate lunch at the park, using the fire another family had made. That made lunch a lot quicker than it would have been, to make so we were able to swim again. The park was packed, no picnic areas available, so we sat on the ground and in our camp chairs. I thought we had packed heavy until I saw people carrying in 12 packs of pop, three coolers per family, and a crockpot. (Yes, a crockpot.)
The people visiting there were very friendly, no pushing, no shoving, no dirty looks when we put our stuff down in a shady spot, five feet from another family.
After lunch we got back in and swam until there was thunder and had to get out. The guys took the kids for a walk to see if the storm would blow over, but when it started raining, we headed to the cars. We were able to see a pretty awesome thunderstorm on the way to town (where we got dinner).
We stayed in town visiting for a lot longer than we probably should have, considering the nearly three hour car ride home, but it was worth it. We haven't seen Blake since he was just a wee teenager and now he's all grown up with a wife, a daughter, a job, and a mortgage. This was also our first time of meeting Jenna and it was great to do so!
It was hard to say goodbye as it will be a while til we see them again, because Rural South Georgia and Montana are a million miles apart, it seems.