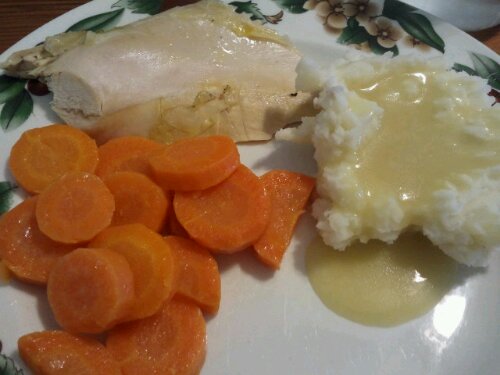 It was time to butcher some of our chickens. We had put it off enough long enough and the older ones are going on three years old now, it was time to kill them and have dinner. Joshua did a lot of research and this weekend, he put his studies into action. It wasn't as horrifying as I thought it would be, but my main job was making sure the pot of water was warm enough to scald the chicken to get the feathers off. That wasn't hard at all.
My plan was to freeze the chickens and forget about them because I have this strange issue with being afraid of eating something I raised. Our big rooster, Captain Kirk, had other plans though. He was a pain in the butt in life and remained so in death: he wouldn't in the freezer bag! Then he wouldn't fit in my pressure cooker!
In the end I cut him down a bit then shoved him into the cooker, where I may have over cooked him a bit, but the stock was amazing….and so was the gravy that I made from it. It could be the chicken or maybe it was the rosemary I tossed in the pot, but I could have had that gravy on its own.
I had a piece of the breast and an obscene about of that gravy, I'm not afraid to admit. That picture above was taken with my junky camera phone and I didn't even need to filter it, it was that pretty and good!