We went to Florida last weekend and traveled about as much of the state as possible in three and a half days. Our trip started out with just a trip to Legoland. We found out they had homeschooling days with reduced ticket prices, as in $12.50 per kid. We could not pass that up, at all, so we planned the trip as part of the Easter gift for the kids.
Looking at the map and also realizing that this may be our last trip to Florida, we decided to add the Everglades to our trip. Then we decided to visit Joshua's aunt and uncle in Sarasota, attend the Anglican Use Mass in Orlando, walk through the Holy Doors also in Orlando, then finally, added a visit to some Savannah seminarians in Boynton Beach. It was a crazy crazy trip, but totally worth it.
Our first stop was actually the seminary. We had dinner with Rev. Mr. Wright (who spent some of his pastoral year at our parish) and three other Savannah seminarians. We headed off to our hotel after that, in Boca Raton. We had thought of going to the Cathedral in Miami on Saturday but after driving for a good chunk on Friday then dinner being late, we passed on that trip and slept in a bit.
On Saturday morning we headed out for breakfast and a drive along A1A where we saw a Lamborghini, a Bentley, a Tesla, the ocean, cruise ships, yachts, and lots of cargo ships. I think we were most excited about the Tesla. We headed south toward Miami for a bit, then turned off toward the Everglades. It was also a beautiful day and we drove with the windows down and we even saw a few alligators along the side of the road.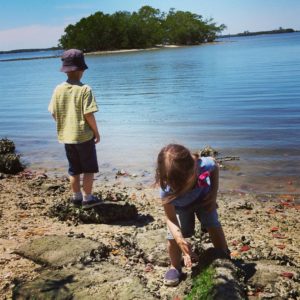 We stopped in Everglade City and stamped our National Park Service Passport book and checked out the visitor center. It's pretty neat to have kids old enough to be able to read the information and to get excited about the things they are learning. We did a walk along the shore line and the kids played with rocks and shells. Then it was time to head off to Sarasota.
Note: Culver's is in South Florida, if you care. I may have moved across three lanes of traffic to get off at the exit where the Culver's was. Okay, I did, but I did it safely. It was worth it, every bite of it. (In case you can't tell, we don't live anywhere near a Culver's.)
Joshua's aunt and uncle graciously hosted us at their house on Saturday night. His cousins came over and we all hung out, catching up. The kids ran around and I got to hear a few stories about Joshua as a kid. (Mostly that he was quiet, not surprising at all.)
After showers and a good night sleep, we headed out to Orlando to go to Mass Incarnation Catholic Church. It used to be an Episcopal Church but it is now in line with Rome and fully Catholic.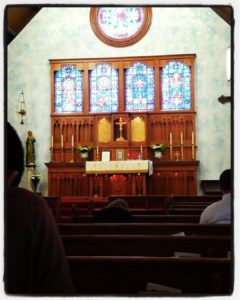 If you have a few minutes, check them out. If you live near an Anglican Use (or Ordinariate of the Chair of St. Peter) parish, I highly recommend checking them out one Sunday. We visited for about an hour with parishioners who came up and said "hello!" and with the pastor as well. Â I told Joshua that if we lived near that parish it would be our parish.
Our next stop was to the Holy Doors at the Basilica of Mary, Queen of the Universe. Our diocese only has one Holy Door, in Savannah, so this just made sense for us to stop at. We were able to go to confession as well, so plenary indulgences all around!
Our hotel for Sunday night was great. If you ever get a chance to stay at a Drury Inn, do it. They may cost a few dollars more, but they have some many amenities that it's worth it. Â They have a "Kickback" buffet that is essentially dinner plus adult drink vouchers, if you are so inclined. The room was clean, the pool was nice, I soaked my legs in the hot tub for a few minutes. Oh and the hotel has a quiet time beginning at 10pm, so it was very quiet as well. Breakfast is also a buffet with tons of options, good options, not just bagels and muffins.
Then we headed off to Legoland. I'm just going to say this about Legoland: "Everything is awesome!" It is very much designed for smaller kids (meaning 3-12) in mind. Benedict was able to go on all but maybe four of the rides, and he's short. Joshua rode the roller coasters with the kids (even Benedict!) and I walked around with Scholastica. There were rides for her too though and she loved them, especially the one where she could drive a car.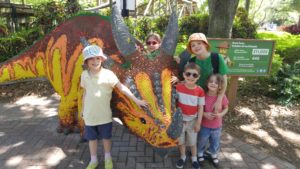 The employees were super friendly as well. On their name tags, they have mini figures and you can trade them for one that you brought along or bought at the gift shop and our kids has the best time doing that. In addition to the rides, there were lots of Lego sculptures and even a mini village set up.
We were also allowed to bring in a backpack with waters and snacks. That kept us from paying $4 for a water and $15 for a pizza buffet, always a plus. I seriously would go back if our travels ever take us to Central Florida  again.
One more bit of trivia: We drove through every single diocese/Archdiocese in the state on our travels.