This morning, two men were ordained for the Diocese of Savannah. One of the men, Father John Wright was at our parish for six months in 2014, so we got to know him a bit. Sadly, because I'm due any day now, the drive to Savannah for the ordination was out of the question, but thankfully we were able to watch the ordination on line.
I was getting some screenshots of the ordination for the vocation page, this one being my favorite: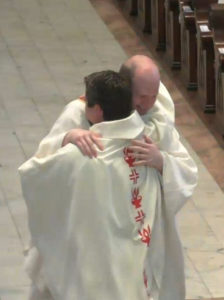 Father Wright is hugging our pastor Father Ferguson, look at the smile on his face!