We picked this watermelon up at the Farmer's Market on Saturday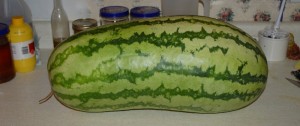 If you look really, really, really close, you will see the number 43 written on it. This is the weight of the thing, 43 pounds. No, really, I stepped on the scale with it and gained 43 pounds.
Karol with the watermelon. It weighs just a little less than he! Now that's a watermelon.