Muffins = Cupcakes = Muffins = Cupcakes, we can all agree on that, right?
Tonight is our monthly parish supper, so I need to bring something to share. Every time I've made bread, it's not turned out well, any side dish I make ends up being gross. I never seldom have these problems at home (well maybe I do, but we just eat it anyway). I found that desserts work well for taking. I can make it early in the day, then drop them off before heading to Mass before the supper.
Today I made Coconut Cupcakes to take as our offering. I also did a few adaptations to make it my own and in the end, they taste very good! Good enough to call a muffins and serve them for breakfast.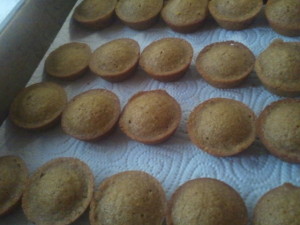 Coconut Muffins
5 tablespoons of  butter, room temperature
5 tablespoons of coconut oil
5 tablespoons of Coconut Cream Concentrate
1 1/4 cup of Sucanat (regular sugar can be substituted)
3 eggs, room temperature
1 cup  milk
1 teaspoon of vanilla extract
2 1/4 cups of flour (I used freshly milled soft white)
1 teaspoon of salt
1 teaspoon of baking powder
1/2 cup of unsweetened coconut
1. Cream together the butter, coconut oil, and Coconut Cream Concentrate until combined.
2. While waiting for that to finish, mix the flour, salt, baking powder into a small bowl and stir to combine.
3. Add the sugar and continue creaming until light and fluffy.
4. Add the eggs one at a time, mixing until combined before adding the next one.
5. Scrape down the sides, then add 1/3 of the dry ingredients and mix, then add 1/2 of the wet ingredients. Continue alternating with the wet and dry mixtures, ending with the dry.
6. Once the ingredients are mixed together, fold in the coconut.
7. Bake at 350 for 10-12 minutes
I made a cream cheese frosting to put over top, I just kinda winged it, so you'll have to forgive my "measurements":
1/2 block of cream cheese (because that's what I had)
2 tablespoons of coconut cream concentrate
sucanat/sugar to taste (or use powdered sugar)
Coconut milk if needed to thin it out.
Mix together with a mixer/beaters, until smooth and top the muffins.
These made 60 mini muffins.