I'm going to lay it out here for you all, I don't like living in South Georgia. Oh, you knew that? I thought I kinda sort of hid it pretty well. One of the reasons I'm not a fan of the area is the total lack of shopping options. I'm not talking about extravagant things, I'm talking about options for children's clothing and shoes. I have a hard time finding clothes that are age appropriate that don't cost an arm and a leg.
So, a few months ago, when a newsletter arrived from the Macon Museum of Arts and Sciences arrived saying they were having a Bug Day on June 14th, we made plans to go to it. Macon is two hours north of us, so we make a day of it when we go. This time we planned the museum, Burlington Coat Factory, Mass, a Greek restaurant, and Aldi. So, basically something fun, with shopping at places that we don't have around here to get things we can't get around here (or can't get at a reasonable price.)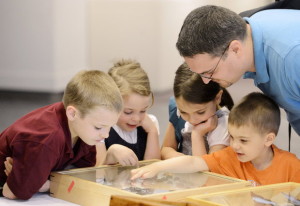 The museum part was awesome. The kids had a lot of fun looking at the bugs. I was creeped out. Who keeps cockroaches as pets? I kill them, die, die, die! We watched a show at the planetarium, dug for dinosaurs, looked at snakes and chased Black Holes. The kids had a great time and so did the parents.
After we left, we stopped for lunch at Firehouse Subs. I've never been there but I was pretty impressed. Scholastica really like it there.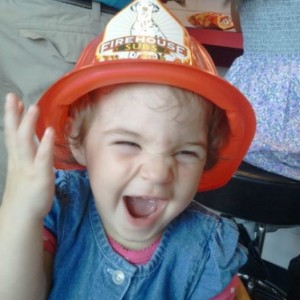 Burlington Coat Factory was great and we found some great deals on shoes and dresses for the girls, as well as a sport jacket for Bene. I found some jumpers for the girls form the school uniform section that will work great for weekday Mass. (Don't worry, there are a few styles and colors, they won't look like they are wearing the same thing at every Mass.) I went with jumpers because I needed to simplify things a bit with clothes. I need to be able to say "Go lay out/get on a daily Mass outfit." or "Go get dressed for strings" and have appropriate clothing put on. I also found some awesome dresses for them from Gymboree for $7! Woot!
After BCF, we headed to St. Joseph Catholic Church. I love that church. It is very much like a northern Catholic church, big, full of stained glass and it helps lift your soul to heaven. (Not to say that a little mission parish can't do that.) We also get to sing out of the St. Michael Hymnal, something so little and something that some people don't even notice, but I love having that little connection to St. Boniface.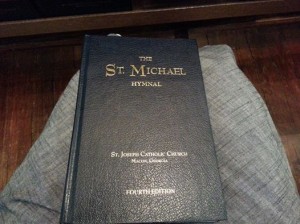 St. Joseph doesn't have padded pews, so my kids slide on them a lot. Caecilia as very concerned that she could not sit up straight without falling over. One more note about St. Joseph: They have a  prie dieu at the the foot of the sanctuary, placed there during Communion, so that those who want to kneel to receive our Lord, can, and those who prefer to stand may also do so. It's a great compromise in my book.
After Mass we headed to a Greek restaurant we had heard about when were up there for the Greek Fest last year. I was not disappointed. After trying one of their falafel, I looked at Joshua and apologized for every under-seasoned not very good deep fried chick-pea patty I've ever served him. The owners are originally from Chicago and did not disappoint in their Chicago-Style Italian Beef Sandwich. It was like being in the Windy City.
Our final stop was to get a few things (right) at Aldi. We now have groceries (minus fresh stuff) for a good long while. That makes me happy. We also have enough wine that I'm now thinking we need a wine rack. So now, with the exception of milk and veggies, I won't have to go to the store for other things for at least three months!